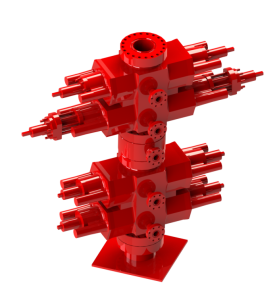 Pressure control equipment, BOPs – part of the well control strategy – are critical components installed on top of the structure of the wells during drilling, completion, or workover operations to react with the positive sealing of the wellbore during various operational scenarios.
There are two different types of BOPs generally used in this industry: Annular BOPs and RAM BOPs. Both systems are actuated hydraulically with manual interface.
Annular BOPs are primary devices that are operated with a hydraulically energised packing element wrap around the drill string that creates a seal for the wellbore flow, whereas the RAM type BOPs are used to seal the wellbore during emergency situations – either to seal between the drill string and wellbore or to completely lock the wellbore by cutting the string in place.
We are one of the largest service providers for BOPs of various OEMs under the API16AR certification programme.
As an APIQ1-certified facility, our policies and procedures are audited and verified by different partner OEMs to approve and validate the quality of service we provide as stipulated in API standards.
We are an authorised repair facility for various OEMs, where we do repair/recertification to various levels in accordance with API 16AR and NACE MR 0175 latest editions and meet OEM specifications.
Conformity of the quality of services provided on units we refurbish has been issued through a COC verification and is backed up by our OEM Partners.
Services Provided:
Major recertification including dimensional inspection and rectifications, hot works, fluoropolymer coating, FAT test with COC or SOF based on scope performed.
Shear test – in-house capability to perform the shear test.
Corrective maintenance – rectification of leaks and functional failures and product fitness recertification with SOF.
Field/on-site rectification – including replacement of elastomers and pressure testing for the unit fitness certification.
Long-term preservation – perform long-term preservation for cold stacking.
RAM block recertification – perform major recertification of RAM blocks with COC from OEM/CEM.
Common BOPs Serviced:
Small bore BOPs used in coil tubing workover operations, medium to large bore BOPs in exploration, completion and workover applications.